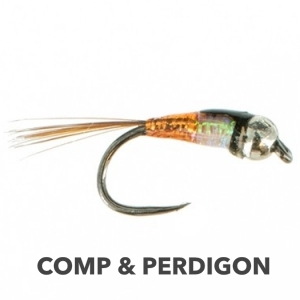 Top Competition & Perdigon Flies
Competition Fly Fishing Flies
Perdigon nymphs as well as competition fly fishing flies have been some of our top producers as well as top sellers as of late. Perdigon flies are designed to probe the depths and allow constant contact with the perdigon or competition nymph you are fishing, so you can pick up on the most selective of takes. Perdigon fishing was popularized overseas in Europe at first and has since really taken hold in the USA. Here we will try to outline some of the top competition flies and some of our top choices for a perdigon fly.
A perdigon fly is often tied on a barbless hook with a shorter shank and a wider gap. These hooks allow a smaller profile fly, that still has great grip and fish holding abilities. Some of our top perdigon patterns are the Beadhead Perdigon Zebra Rider, Royal Flush, Red Pearl, PeaNut and Dilated Pupil. All these patterns are tied on tungsten beads as well to ensure that you get down to where the fish are actually located.
Our top competition flies are tied on similar style hooks, and some are also tied on a jig-style fly hook to allow the fly to ride hook point up for last snags when fishing on the bottom. They are also tied with tungsten beads. Some of our top competition flies are the Beadhead Tactical Pheasant Tail and Beadhead Tactical Jigged Frenchie, as well as the Copper Top, Flashback Pheasant Tail, Mop Fly, and of course the pink and red Beadhead Tactial Squirm Worms. Although these are some of the top competition flies that we recommend, all the patterns in this category are highly effective, and all can be top producers based on conditions.
Fishing of competition and perdigon patterns often consists of using longer style rods in the 10 to 11 foot range as well smaller weight fly rods. A 3 weight is a very common rod for this style of fishing. The longer rod allows you to hold more line off the water, thus providing less chance for drag to be created, and they also give the angler more control over the fly pattern and placement. An additional benefit is the instant hook set a longer rod provides. A longer rod is closer to the flies, and any hook set by the fly fisherman is instant. The quick reaction time will lead to more hook ups as any versed nymph flies fisherman can attest to. Give these patterns a shot, they have proven themselves the world over, and they deserve a spot in any fly fisherman's fly box.